The Ultimate Used SUV Buyers Guide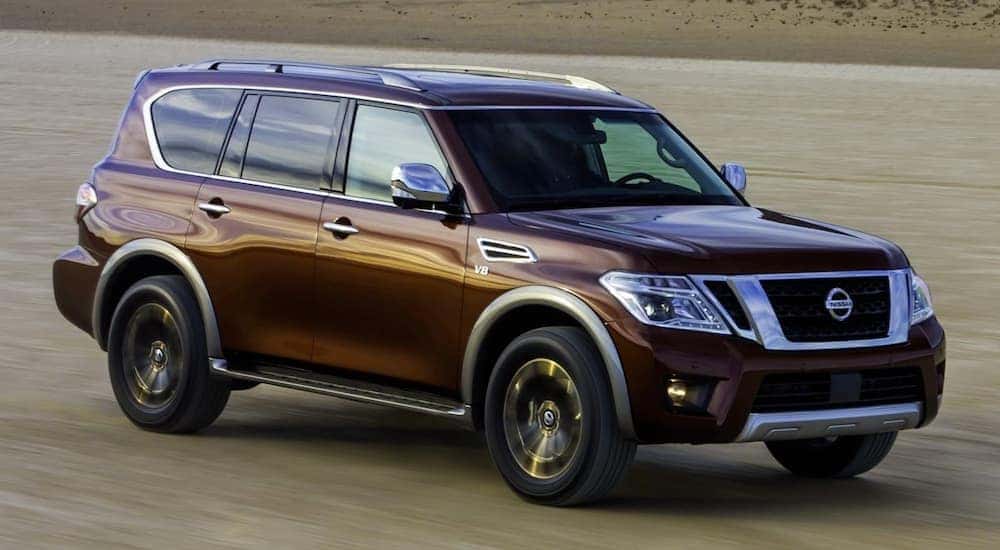 If you've been searching for Mesa, AZ used cars, you've probably come across several noteworthy options. Here at Arizona Cars, we understand that finding the perfect set of wheels can be a daunting challenge. That's why we've come up with this used Nissan SUV buyers guide. What's the best Nissan SUV? Once you've finished reading this article, you should have an answer to that question. Let's jump right into the list!
Used Nissan Cube
Arriving in the United States in 2009, the adorable Nissan Cube was only produced for the North American market until 2014. Within its short 5-year run, this subcompact crossover made waves all over the country. Its unique boxy shape allowed this model to carry five passengers with 11.4 cubic feet of space behind the back row. You could even fold down the back row to expand the cargo area to 58.1 cubic feet.
Even though there were a few engine options, the average fuel economy for this model was estimated at about 29 mpg combined (27 city/31 highway). That's incredible for an SUV built during this time period. This exceptional gas mileage rating was mainly due to the continuously variable transmission (CVT), which also gave drivers smooth automatic shifting. Another highlight for this vehicle came on the higher trim levels, with the six-speaker Rockford Fosgate stereo system with satellite radio. This was a godsend for music lovers and delivered high-quality sound for the ultimate experience in entertainment. Popular with the younger generation, this model will have heads turning everywhere you go.
Used Nissan Murano
The mid-size Nissan Murano was first introduced back in 2002. Currently in its third generation, this vehicle is still produced today. With seating for five, this SUV offers 32.1 cubic feet of room behind the back seats. By folding down the back row, you can more than double the space to 67 cubic feet.
This vehicle comes well equipped even at the base level. If you manage to find a 2015 or later pre-owned model, you've lucked up. Standard features include cruise and dual-zone climate controls, LED daytime running lights, a rearview camera, and rear privacy glass. You'll also notice the advanced infotainment interface displayed on a 7-inch monitor with smartphone integration, Bluetooth phone/audio connectivity, satellite radio, and even a CD player. Dual USB ports are also provided for charging your mobile devices. That's just on the base model. Imagine what you'll get if you find a higher trim, such as the SL or Platinum. These trims come with heated/cooled leather seating and advanced safety systems such as blindspot monitoring and rear cross-traffic alert. Those are features that you would see on a new model today. The difference is that you can find a used Murano for much cheaper.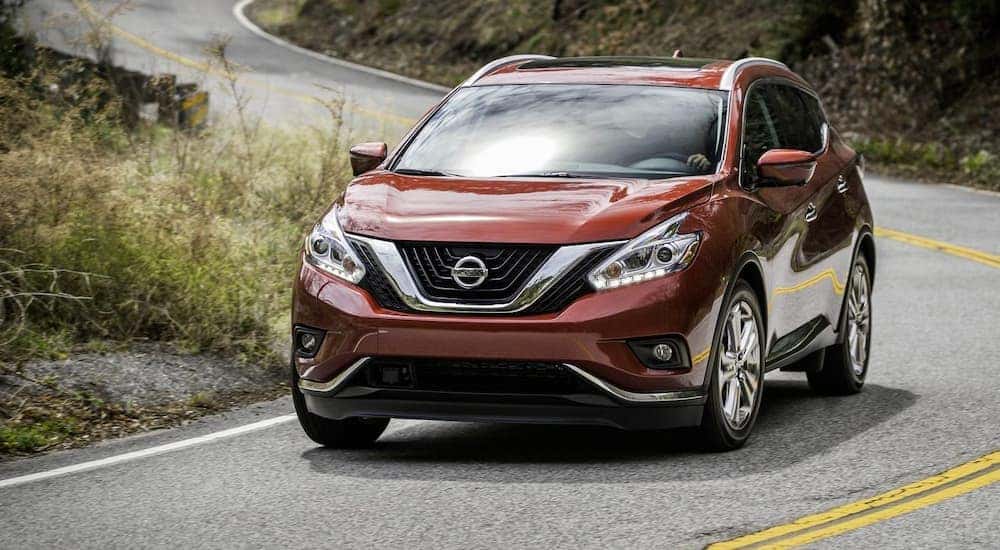 Used Nissan Rogue
One of the most popular models in the entire Nissan lineup is the Rogue. Debuting at the North American International Auto Show in Detroit, MI, back in 2007, this compact crossover has made quite a name for itself. It is still in production today and is in its second generation. With available seating for seven passengers and 39.3 cubic feet of cargo room, it's a solid pick for small families or singles who love to travel. By laying the seats down, you can expand the cargo space to 70 cubic feet, which is massive for such a petite vehicle. It may also interest you to know that the Rogue holds a five-star side-impact rating from government-conducted crash tests.
Like its cousin, the Murano, even the base model comes well-equipped. It's quite easy to find a second-generation Rogue S with a trip computer, a rearview camera, and Bluetooth phone/audio connectivity. These features are standard, including a USB port for charging and an auxiliary jack. Only available in three trims, there are several packages that you might find equipped on your used Rogue. These packages can add anything from heated seats and navigation to blindspot monitoring and even lane-departure warning. You might even manage to find an SV model with a panoramic sunroof! Nissan certainly knows how to pack in the goodies.
Used Nissan Pathfinder
Here's one that's been around for quite a while. Released back in 1986, the Nissan Pathfinder has had plenty of time to find its footing in the American market. Currently in its fourth-generation, this vehicle is still going strong. This mid-size SUV offers three rows of seating and 16 cubic feet of space behind the back row. The seating can be configured for 47.8 or 79.8 cubic feet of cargo space, depending on how you arrange the seats. Combining a truck-like body with the underpinnings of a civilized sedan, this crossover is ideal for large families with active lifestyles.
Looking at the fourth-generation trims, your best bet will be to find one that is at least an SV model. This level includes tow hooks, rear parking sensors, remote start, and a tire pressure monitoring system. If you like to head off on road trips, these are all very handy features to have. Typically offered in four trim levels, there are several packages that you might find included in a used model as well. These can add heated/cooled seating, a 13-speaker Bose stereo system, a dual-pane panoramic sunroof, and even a back seat DVD entertainment system with dual screens. As a versatile, well-rounded family SUV, a used Pathfinder is an affordable choice that will last for years.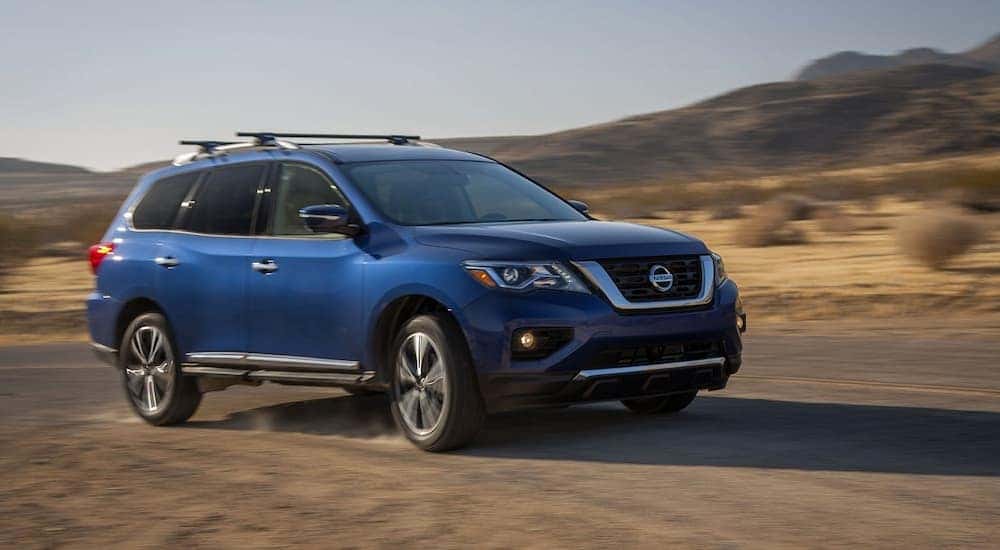 Used Nissan Armada
For large families who need even more space, a pre-owned Nissan Armada is a great choice. This full-size SUV seats eight and offers 20 cubic feet of space behind the back row. By folding down the third row, you can expand the cargo to 56.7 cubic feet. By laying both the third and second rows flat, you can open up the cargo area to 97.1 cubic feet. First released in 2004, this vehicle is still in production and currently on its second generation.
The second generation began in 2017 and is an affordable option for families on a tight budget. Standard features on the base model include heated front seats, roof rails, side steps, rear privacy glass, and a leather-wrapped tilt-and-telescoping steering wheel. It also comes with an infotainment system displayed on an 8-inch touchscreen that operates with Bluetooth and navigation. You can even listen to music through the 13-speaker Bose stereo system. Higher trims can be found with heated seats in the back along with a rear-seat DVD entertainment system. Needless to say, this vehicle offers plenty of nifty tech and comfort features to keep everyone in the family happy during long drives. Even safety features such as adaptive cruise control, emergency braking, and blindspot monitoring can be found in the used Armada you are looking has the right package.
Find the Right Used Nissan SUV
Did you see something you liked? At Arizona Cars here in Mesa, AZ, we've got a great selection of used Nissan SUVs to choose from. Give us a call or stop by our dealership to take one out for a spin today!