The 3 Best Pizza Places in Mesa, Arizona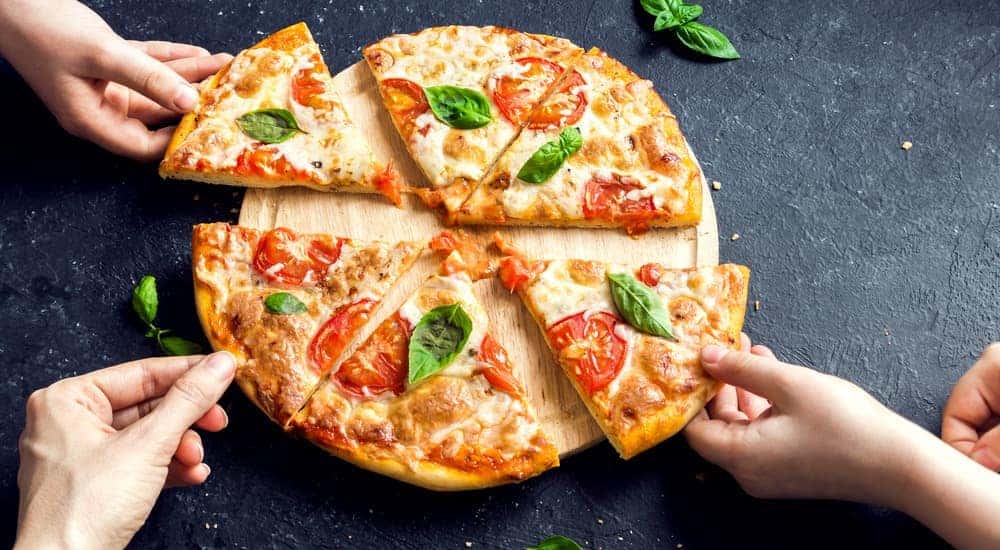 Mesa, AZ is a city of wide-open spaces, blue skies, friendly people, and pizza parlors. If you're looking for pizza places in Mesa, Arizona, you don't exactly have a shortage of options. There are a lot of restaurants out there to serve your savory pie needs. But everybody knows that there's a disc of dough, sauce, and cheese. And then there's really great pizza.
While it's true that tastiness is in the mouth of the beholder, it's not too hard to find a good pizza place in Mesa to satisfy your cravings. All you have to do is do a bunch of research online, compare Yelp reviews, maybe interview some people…
Or you could just read our handy guide to the top three pizza places in Mesa, Arizona, compiled by our staff here at Arizona Car Sales. While we all couldn't agree on a favorite, these are three of the most popular places we came up with.
Twisted Pies Pizza
Twisted Pies is a pretty standard storefront in a pretty standard shopping strip, but what's inside is anything but ordinary. Seriously.
Family-owned and family-oriented, Twisted Pies specializes in the kind of food that's homey, solid, and filling, as well as insanely tasty. We're talking pillowy, yeasty garlic knots dusted with parmesan and dunked in rich red herby marinara. Meaty, perfectly cooked wings with the perfect amount of barbecue sauce and cool, and housemade ranch dressing. There are hot wings, too. And yes, they're the kind of lip-tingling spicy that makes you reach for a drink. The hot wings come with a celery stick or two in case you need to cut the spice because Twisted Pies is just that considerate. Seriously cheesy cheese bread, five different salads, ranging from the Caprese with fresh mozzarella and heirloom tomatoes to the meal-in-itself Antipasto salad with its perfect mix of crunchy cucumbers, spicy pepperoni, calabrese, and provolone.
As good as Twisted Pies' appetizers, sandwiches, and entrees are, their pizza is the real star of the show. Their crusts are fresh, oven-blistered, and crisp, and their ingredients are all at the peak of freshness. There's nothing like the milkiness of fresh mozzarella melting on top of that delicious Boston-style crust. They specialize in the kind of pies your grandmother would bake if your grandma had a wood-fired oven in her kitchen. Yes, they have your favorites, like pepperoni, but they also do their pies with a twist… Perfect Pepperoni with Basil (yum!), a Margherita pizza with fresh heirloom tomatoes, or maybe you're looking for a pizza you can't refuse, like the Godfather with its ham, pepperoni, sweet sausage, hamburger, and bacon.
If that's not enough to get you going to Twisted Pie, how about their pie of the month? That's right, every month, the geniuses at Twisted Pie come up with a specialty pie. How awesome is that? But don't take our word for it… Go try some for yourself.
The Specialty of the House: The Carnivore, a pie so loaded with meaty goodness that the crust almost (almost) can't stand up to it.
Venezia's New York Style Pizza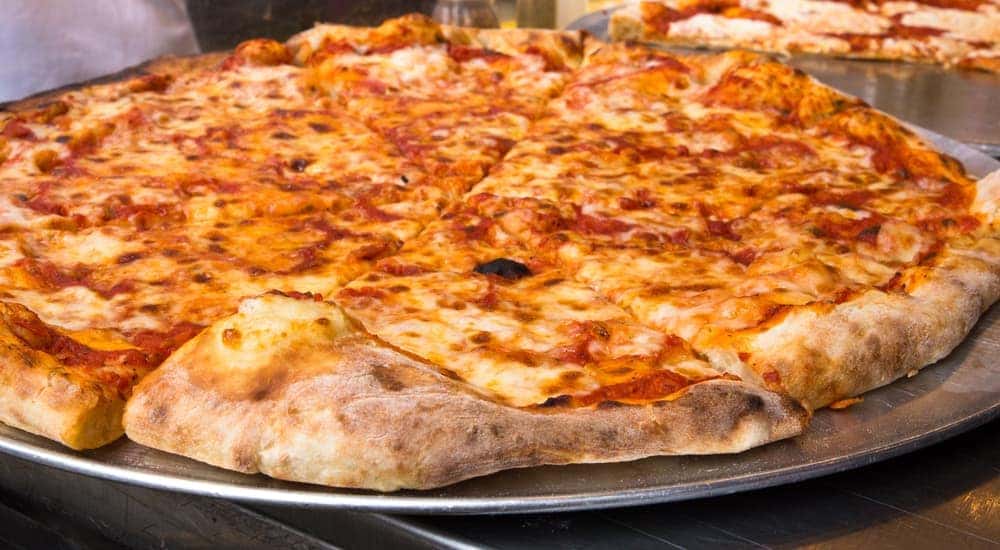 If you're looking for East Coast-style pizza, Venezia's serves that and so much more besides. Eating at Venezia's New York Style Pizza isn't exactly a teleporter to New York City, but it's close.
Venezia's prides itself on serving real Italian food and pizza to the community. Everything on their menu is homemade and the highest quality. Crushed tomatoes, fresh mozzarella, the same distinct New York-style crust that makes pizza so much more than lunch, it's art. Maybe that's why they've been voted the Best Pizza in the Valley.
Like a good, chewy crust? Venezia's pizzas deliver, with a crust that stands up to the premium toppings you're adding, like chewy, thickly layered cheese, freshly made sauce, garden-fresh veggies, and a dizzying array of premium Boarshead meats. The salad options (because what pizza place doesn't have salad options?) are all incredibly fresh and come with a ton of toppings, like the healthy sweetness of their tender spinach salad with roasted red peppers, candied walnuts, cheese crumbles and dried cranberries tossed with raspberry vinaigrette, to the healthy but hefty antipasto salad with its rolls of ham, salami and pepperoni on those crispy, cool greens.
If you can fit more than pizza into your lunch hour, Venezia has fantastic lunch specials that include a drink and a freshly-made salad. Fast, fresh, filling, and awesome. And if you can fit dessert into your caloric budget, we have two words. Fresh. Tiramisu. And if you need special options for your pizza, like gluten-free or cauliflower crust, or even crustless pizza (can you say zero-crust pizza bowl?), Venezia's got your back.
The Specialty of the House: The uniquely delicious pesto chicken pizza, the so-Italian-it's-awesome Bianco white pizza. and the meat-laden Italian Stallion (warning, it's got a kick!).
Organ Stop Pizza
Looking for great pizza and a show? Organ Stop Pizza is the most unique pizza parlor in Mesa, maybe even in Arizona. Why?
Because in addition to crispy thin-crust pies and decadent definitely-not-diet-friendly deep-dish pizza topped with perfectly melted cheese and every topping you can think of, they serve music.
We're not talking about piped in music from a radio station. Organ Stop Pizza is the only pizza place we've heard of that has a vintage 1927 Wurlitzer organ in-house to provide live musical performances by acclaimed artists (and yes, they take requests).
Organ Stop features high-quality pizza with well-portioned toppings to satisfy your hunger while the organ performance takes care of your entertainment needs. Organ Stop produces tasty pies like the Hawaiian and the P.S.M. (pepperoni, sausage, and mushroom) for all pizza lovers: gluten-free crusts and keto variants are available on request, so there's no reason you shouldn't be having pizza tonight.
Don't worry, if you want to customize your pizza, Organ Stop has a build-your-own option. If you're looking for a bit more than pizza, there's also a salad bar, tasty and filling sandwiches like their famous Submarine sandwich, and possibly the most perfect garlic bread in town.
If you're looking for a unique place to take out of town visitors, or you want to treat yourself to good food and great music, you can't find anywhere else, head on over to Organ Stop Pizza.
The Specialty of the House: The Combination, an everything but the kitchen sink pie with Cheese, Pepperoni, Sausage, Ham, Beef, Bacon, Mushroom, Black Olive, Green Pepper, and Onion.
Pro-tip: There are a few tricks to getting the most out of your meal at Organ Stop Pizza.
The food ordering process is unique: Dinner, drinks, and dessert all ordered at separate counters. The restaurant is cash/check only. All food is made to order, so there might be a bit of a wait. If you want to appreciate the amazing musical performances fully, grab a seat on the second floor. If you want to be able to take full advantage of the bubble machine, sit on the main floor.
Sensory Warning: Due to the live music, the restaurant is loud, people with sensory issues may want to bring ear protection. A disco ball also makes an occasional appearance, which may present problems for people sensitive to spinning lights.
Pizza and Mesa, Arizona go hand in hand, and if you're lucky enough to be in the area, you might want to check out one of the pizza places on our list. What are you having for dinner tonight?