Is it Safe to do a Credit Application on a Dealership's Website?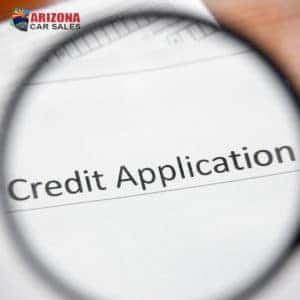 With the growing popularity of shopping for used cars on the internet, you may feel intimidated by the overwhelming information available online. On one hand, many websites make it easy to select the a vehicle that is going to suit your needs. At the same time, you may be worried about the threat of online identity theft if your personal information is not protected. There shouldn't be any concerns regarding the safety of your personal information if you are filling the application on the website of a reputable and trustworthy dealer. You can trust Arizona Car Sales to always treat your personal information with all of the care and safety is deserves.
Since every important aspect of car buying needs to be considered carefully, buyers should explore loan options comprehensively for finding the best finance at the lowest rates. Here, our website can play an important role. You can file your credit application on our website for preapproval of your loan. This helps in finding a vehicle that fits your budget.
The Process Is Safe and Effective
It is needless to say that filing credit information online can save a lot of your time and efforts. You can complete this procedure from any location as long as you have a smart device and an active internet connection. The internet has simplified this process to a great extent. Loan approval has become faster due to online filing and processing of credit applications. Whether you are buying a new car or a used vehicle, it will expedite the process of ownership in an effective way.
Safety is a major concern in this regard. Buyers remain worried about the privacy of their personal information shared on a dealer's website. Understanding these concerns, we are using the latest data encryption and firewall technology on our website. This technology controls the access to the data and protects it with an encrypted password. You can rest assured for the protection of your information when you fill out an application on our website. We prevent all of your data from falling prey to the hackers and cybercriminals engaged in identity thefts online.
When it comes to less reputable dealers, you must be more careful. If their website is not secure, or if they are not using a secure form submission program  like we do, your information may be at risk. Always check dealer review, and when in doubt, give the dealer a call to ask about their practices when it comes to personal information and website encryption.
How Can You File an Application on our Website?
Online filing of credit application is a simple process. In a few simple steps, you can fill out and submit this form on our dealer website. After we review your information, we will send give you a call and send you a confirmation email with the loan options available for you. This process is just as safe as the  filing a paper form at our dealership, but it saves you the trip of coming in if you are trying to stay at home as much as possible. It also means that when you are ready to buy, you can be driving off of our lot in your new ride in under an hour!