Exploring the 12 Best Breweries in Mesa, Arizona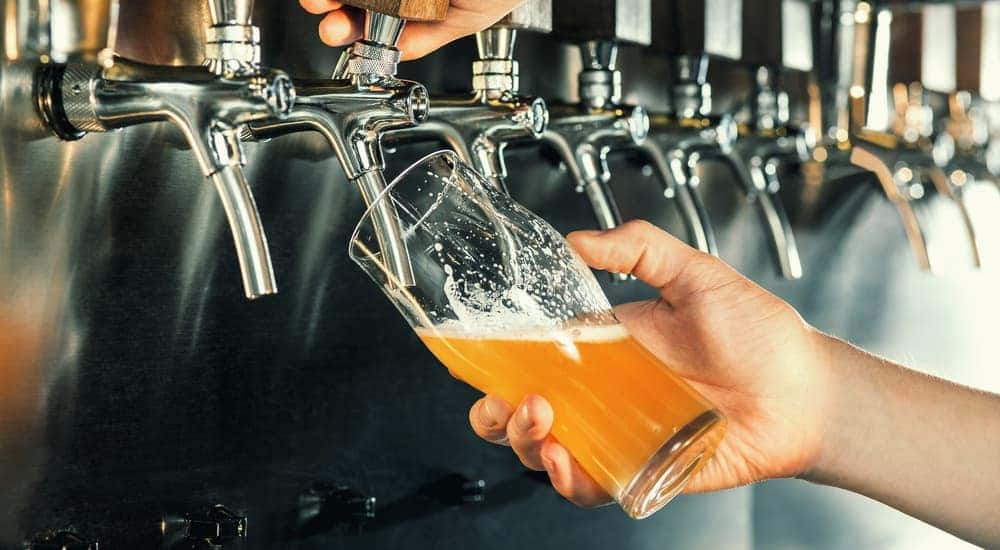 The Southwest's signature is spice, hatch chiles, and the kind of bite that makes you reach for a cool drink. Maybe that's why Mesa, AZ is Ground Zero for so many amazing breweries. There are more than a dozen in Mesa and its surrounding cities. With so many choices, how do you know which breweries in Mesa provide the best beer for your buck?
We wondered that, too… so we've grabbed our frosty beer mugs, and had our staff at Arizona Car Sales go hunting for the twelve best breweries in and around Mesa, Arizona.
Please read the following list responsibly…
12 West Brewing Company
12 West Brewing Company's Noel Garcia and Bryan McCormick started brewing beer in their kitchen a decade ago. Fortunately, you won't need to crowd into their kitchen to sample any of their brews… 12 West Brewing is currently operating out of the trendy craftsman community at Barnone.
12 West's specialty is crafting up unique combinations like their sour beers (look for the gorgeously red Scarlett, a sour beer flavored with black currants), the popular Zona pilsner, the magnificent oatmeal coffee stout Midnight Run.
12 West Brewing Company even lets you bring in food from neighboring pizza place Fire & Brimstone Pizza, so if you're looking for a chill atmosphere and great brews, this is a local brewery worth visiting.
Lochiel Brewing
If you're ready for one of Mesa's best-kept secrets, go find Lochiel Brewing. Lochiel Brewing is the local microbrewing company with Scottish flair. Want pub ales, porters, or toothsome stouts? Head over to Lochiel.
Want a clean-finishing, refreshing Irish red? Lochiel.
Want an education into the beermaking process? Still Lochiel, they have a beer process screen in the customer area so that you can see what beers are currently in production and where they are in the brewing process.
Pretty neat, right?
The one thing Lochiel Brewing doesn't have is food service, but since they let you bring in your own, that's not a big deal.
Cider Corps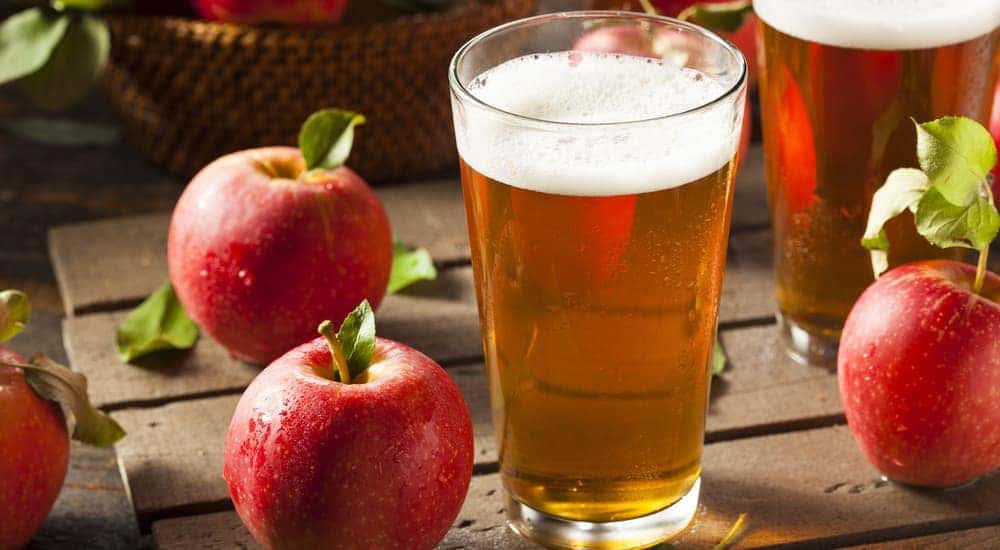 Cider Corps is a roughly 100-seater microcidery, not a microbrewery, but we don't think there's any reason the apple shouldn't get a little love on this list of the 12 Best Breweries in the Mesa area, mostly because Cider Corps is so extraordinary.
Owners Jason and Josh Duren put their love of country (Jason is a decorated Marine Corps veteran) together with their love of brewing to launch Cider Corps, the first microcidery in the Valley. It turns apples into drinkable art, offering hard ciders, barrel-aged ciders, and even cider slushies.
The rotation of ciders is always good, but some of the standouts are the Mango Foxtrot (mango and rose), Stand up for Incoming (apricot cider), and the Sangin Sangria Red.
Beer Research Institute
Open, bright, and breezy, the Beer Research Institute looks more like an upscale eatery than a lab, but don't be fooled. These folks take their beer research very seriously.
How seriously?
They serve their flights in beakers.
The science vibe may be strong, but what's stronger is their brewing game, with their hoppy IPAs (Top Secret Battle Monkey is a top seller) and their take on an India Pale Ale, Wh(ipl)ash. If you want a strong dark brew to get you going, and you're also a Star Wars fan, go for the Dark Side Til I Die, a thick Imperial double oatmeal stout.
They've even been known to do a pairing only they could come up with, a beer and bacon tasting. Four beers and four bacons, an unbeatable combination.
Oro Brewing Company
Oro Brewing is a nanobrewery that currently runs about 12 taps. It's gracious enough to have guest brews over to play alongside their own excellent lagers, IPAs, and ales. Try the unique Royal Windsor if you like spiced winter ales or the Hopiphany IPA.
No matter what drink you order, they're all winners. Oro Brewing Company keeps to a gold standard for quality and taste while putting their own spin on favorite styles.
Equally gold standard is the friendly service you'll get from every last employee at Oro. Could it get better? Why, yes! The patio is dog-friendly, and although there's no food service, you can place an order for Worth's next door and have it delivered to you while you sip your excellent brew.
Arizona Wilderness Gilbert Brewpub
It doesn't get any more local than Arizona Wilderness Brewpub, where they put their conservation credits where their beer glasses are. Chase Saraiva, head brewing genius, believes in showcasing the state's signature flavors and quality in every beer he brews, and in supporting sustainability projects that bring quality ingredients into the brewery. Arizona Wilderness sources ingredients from local farmers and producers, and they never mind trying something truly crazy, like prickly pear or sycamore leaves.
They're known for their creative takes on lagers and ales, like the caramel-noted Rincon Red, the unique Oktoberforest Marzen, and the deliciously complex Goo Goo Ga Ga peanut and chocolate imperial stout.
Arizona Wilderness Brewpub serves food (hence the "pub" in "brewpub"), and it's as good as the beers. The duck fat fries and peanut butter and jalapeno jelly hamburger will knock your tastebuds out of the park, but you can't go wrong with anything on their menu.
HELLUVA Brewing Company
Bright, wide-open spaces and gleaming stainless steel tanks give this brewing company's storefront an industrial vibe, but this is an industry you'll love… as long as you love beer and good food.
Helluva Brewing has one helluva beer selection. They do artisan brews, and they do them well. Their IPAs on tap range from the aptly named Hop Hysteria to the Helluvaweizen with its flavor hints of banana and clove, and they're all uniformly amazing.
Helluva Brewing backs up its excellent beers with excellent food (ever tried Corn Brat Pops? No? You should…), and great service and a family-friendly establishment. You can't lose coming here.
Sleepy Dog Saloon and Brewery
Sleepy Dog takes its theming to new and staggering heights. It's the only completely dog-friendly brewery on our list. And we do mean dog-friendly… Not only are pups welcome, but the beers are named for dogs and the things they do.
Their Wet Snout Peanut Butter Stout is an exercise in smooth drinking, with a creaminess and malty richness from real peanut butter. More in the mood for a crisp Mexican-style lager? Go for the Fiesty Chihuahua. No matter which quality craft beers you order in your flight, they'll arrive in a bone-shaped flight holder.
Four Peaks Brewing Company
Four Peaks Brewing Company is the kind of brewery where you come for the craft beer and stay for the burgers. And then you come back later that week with friends, because everything is that good.
This brick and industrial steel space somehow manage to give off a chill local vibe that makes drinking a pleasure, which is good, because they've got the kind of beers on tap that deserve reverence. The Kiltlifter, Pumpkin Porter, and Peach Ale are particular standouts. Their burger and fries game is strong, too. Try the Brie burger to see what we mean.
Four Peaks Brewing will make you feel – and eat – like a local. No wonder it's Arizona's most popular brewery.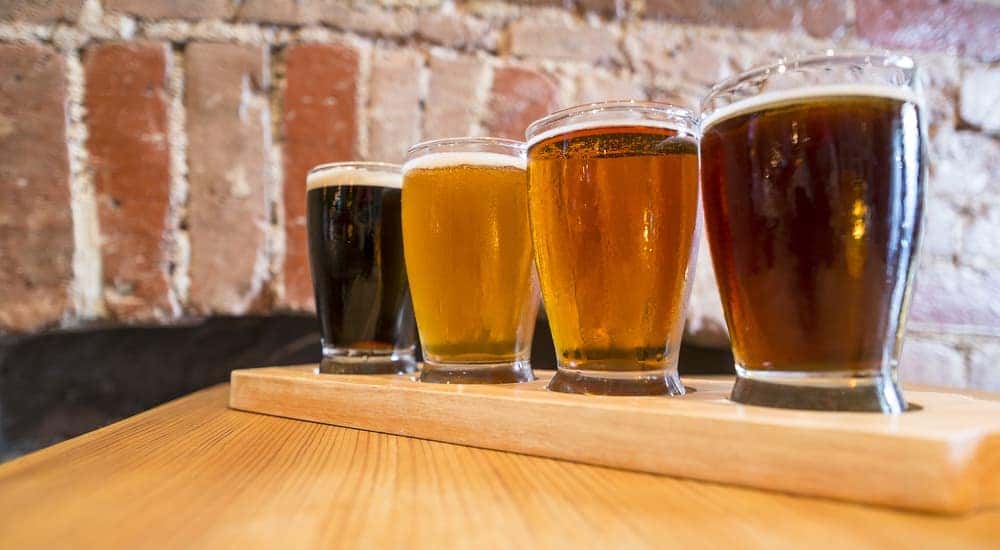 Desert Monks Brewing Company
If you're looking to taste unique beers, look no further than Desert Monks Brewing Company. Arturo Ruiz and his partners all believe that the sky's the limit when it comes to ingredients, if you want to try a beer made with Oreos, guavas, or chiles, go to Desert Monks.
The brewery may be small, but it's very thoughtfully set up. Order food through Postmates or bring your own if you need some solid accompaniment to your beer. If you're going on the weekend, Desert Monks has food trucks onsite for you to choose from.
Desert Monks doesn't just sell beer, they do all things brewed, so look for hard kombuchas and house-made sodas, too. But if you are sticking with the beer (and why wouldn't you?) flights are super reasonable. When you add the nifty little touches, like charging ports, hooks to hold a purse, available games, and enthusiastic employees, you'll make Desert Monks Brewing Company your next stop on your Mesa-area microbrewery tour.
Barrio Brewing Co.
While this is farther out, Barrio Brewing is a welcoming and spacious brewery where you go if you want some flights with your flight. It's located near a small airport, so you'll get a view of the mountains, and you get to watch planes and helicopters take off while you sip your beer.
Besides excellent beers, Barrio Brewing also lays claim to some of the best spinach dip in the state, so you might want to order some to go with your Mocha Java, Grapefruit IPA, or Citrazona IPA. You know, while you watch the fighter jets.
Desert Eagle Brewing Company
With its traditional decor and fun taproom atmosphere, Desert Eagle Brewing Company holds its own on a list of Mesa's best breweries. It blends Arizona hospitality with local flavor, if you've ever wanted to go to a bar where everybody knows your name, this is it.
Desert Eagle also manages to serve incredible bar eats with its roster of great local beers: the Desert Eagle Wheat is a perennial fave with its light lemony flavor. The 187D8, an oatmeal stout, is also super popular.
Good beer and good food. What's missing? Music? Nah… Desert Eagle runs live music, too. So if you're looking for a neighborhood bar with a family vibe and great entertainment, hop on over.