Best Things to Do in Mesa, Arizona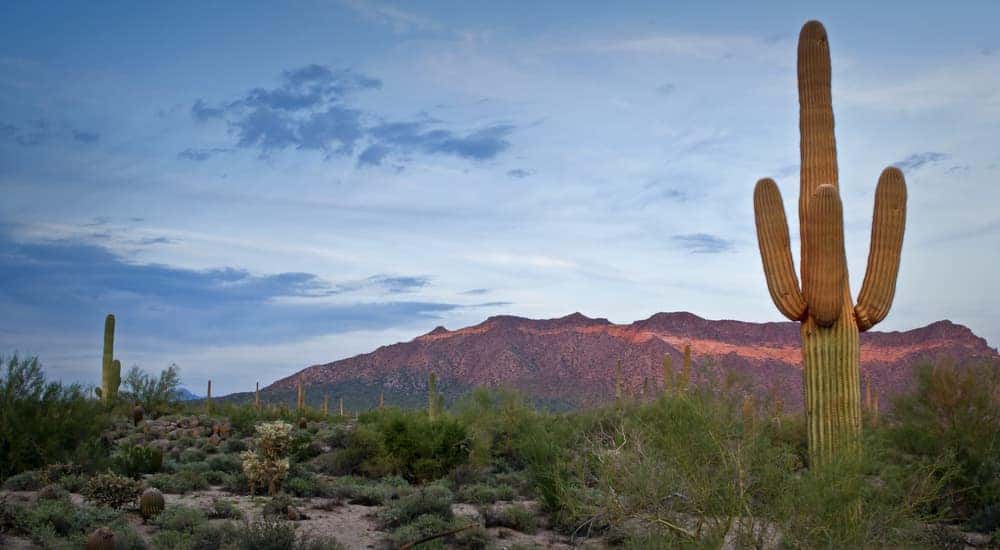 Whether you're a long-time local or new to the area, chances are you've heard of all the great things to do in and around the city of Mesa, AZ. As one of the leading auto dealerships in the Mesa area, our team at Arizona Car Sales, knows the ins and outs of exploring the various gems and tourist hot spots of our humble desert town. Located just outside the bustling city of Phoenix, the proximity allows us to enjoy all of the glitz and glamor of city life, while at the same time having the option to escape to some truly remote parts of the Arizona wilderness. From scenic views overlooking sprawling desert views to museums detailing some of the world's ancient history, Mesa Arizona has it all, and with our help, we can help you see it all. While we may be experts in the car buying process and are home to a wide variety of top-notch vehicles, we also know how to have a good time in our hometown, and are excited to share how you can make the most of your time here.
Exploring Nature Near Mesa
One of the greatest highlights of Mesa, AZ, is being surrounded by sprawling nature preserves and state parks. Mesa is located in the middle of a high-desert, practically overflowing with life. View stunning ancient rock formations from winding trails, or simply observe nature from beautiful overlooks; this is a nature lovers' paradise. That's not to mention the wide variety of activities and fun that can be had in our own little outback. Dirt bike riding, backpacking, and even rock climbing can all be enjoyed in and around Mesa, and some of our dealers know the best spots to partake.
One favored space amongst locals is the Usery Mountain Regional Park which is a part of the much larger Tonto National Forest. Nestled at the foothills of a shrub-covered ridge, Usery Mountain Regional Park is a simply stunning locale that gives explorers access to some of the most remote and beautiful parts of the wilderness. If you're feeling up for an adventure and want to see the rolling landscape of Usery Mountain Regional Park, we recommend that you embark on the 3.2 mile Wind Cave Trail. This is a heavily trafficked trail that can get hikers up close and personal with the wildflowers, cacti, and other wildlife that naturally flourish in and around Usery Mountain Regional Park.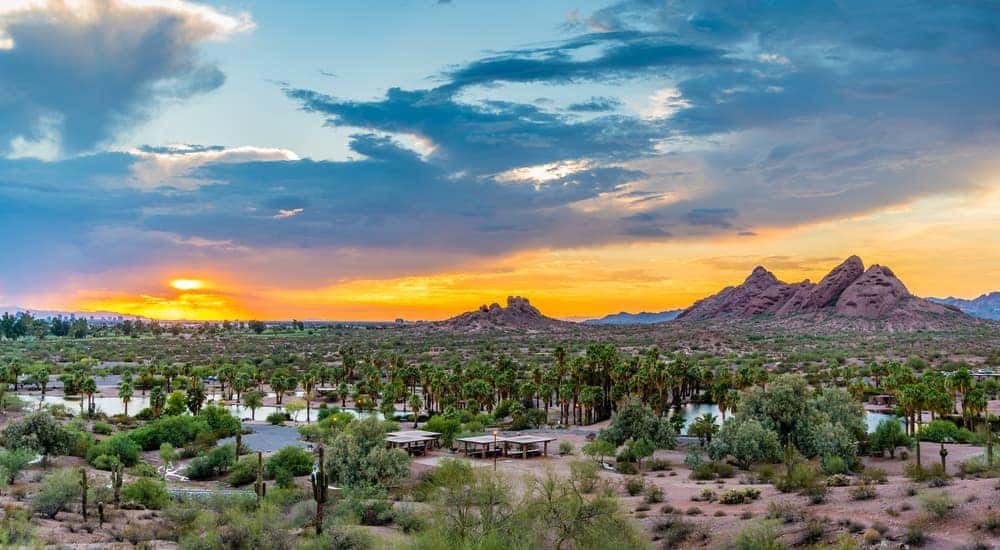 Another remarkable natural space near Mesa is the ever-famous Papago Park. Located just a short drive from the heart of Mesa, Papago Park features a truly peculiar, yet beautiful, rock formation that can be scaled and climbed. From the top, you'll have uninterrupted views of the surrounding landscape, and the cities of both Mesa and Phoenix in the distance. Papago Park also features a manmade pond, where you can relax by the water. Perfect for picnics, or simply sightseeing, Papago Park is a great place to bring the whole family.
If you're really looking for a heart-racing adventure, we'd suggest venturing out to Mount McDowell, otherwise known as the Red Mountain. Truly remote, this is a place covered in trails that range from moderate to considerably hard. The McDowell Sonoran Preserve is located just a few miles adjacent to Mesa, AZ, giving travelers easy access to a truly rugged part of the countryside. And if you're feeling up to it, you can embark on Tom's Thumb Trail, a 4 mile heavily trafficked that is all uphill climbing. But, once you reach the top, you'll be rewarded with a spectacular view that you would be hard-pressed to find anywhere else.
City-Life
While we may be near some truly remarkable nature preserves and state and national parks, these aren't the only attractions that we offer here. If hiking isn't your thing, don't worry, we have plenty of places where you can observe nature in a contained and educational environment; take the Arizona Museum of Natural History, for instance. Here, visitors will be able to get up close and personal with the natural world in a calm, easy-going, and air-conditioned environment.
At the Arizona Museum of Natural History, you'll even get to travel back in time and relive the era of the dinosaurs when massive lizards roamed the Earth. You'll also get to explore the early era of human life and how we crossed paths with now-extinct creatures like the mammoth and the saber-toothed tiger. The Arizona Museum of Natural History is a fantastic place to take the entire family, and to give the kids a glimpse back at their ancient past.
If you're looking for a bit of nightlife, don't worry, we've got it here in Mesa. Looking for a place to have dinner and see a show, we couldn't recommend the Mesa Arts Center enough. This stunningly modern creative space is located at the heart of the city and features both national and global acts. From entertaining shows shipped straight from Broadway to comedy shows and classical concerts, every genre is accepted at the Mesa Arts Center. And if you're looking to work on some of your own creative skills, the Mesa Arts Center also puts on classes where you can learn things like ceramics, painting, printmaking, jewelry, and sculpture.
Looking to try your luck at the slots or on the Blackjack table? Well, Casino Arizona might just be the place for you. Located right off of the 101 highway, and nestled along the banks of the Salt River, is one of the largest casinos in the area. Casino Arizona is a gamblers paradise and is the best place to put your money on the table in the area, next to Las Vegas of course. Not only will you be able to test your luck, but you can also dine at some of the finest restaurants in the city. And like the Mesa Arts Center, Casino Arizona puts on nationwide and worldwide acts. So, when you visit Casino Arizona, you'll get the chance to enjoy dinner, a show, and the chance to strike it rich.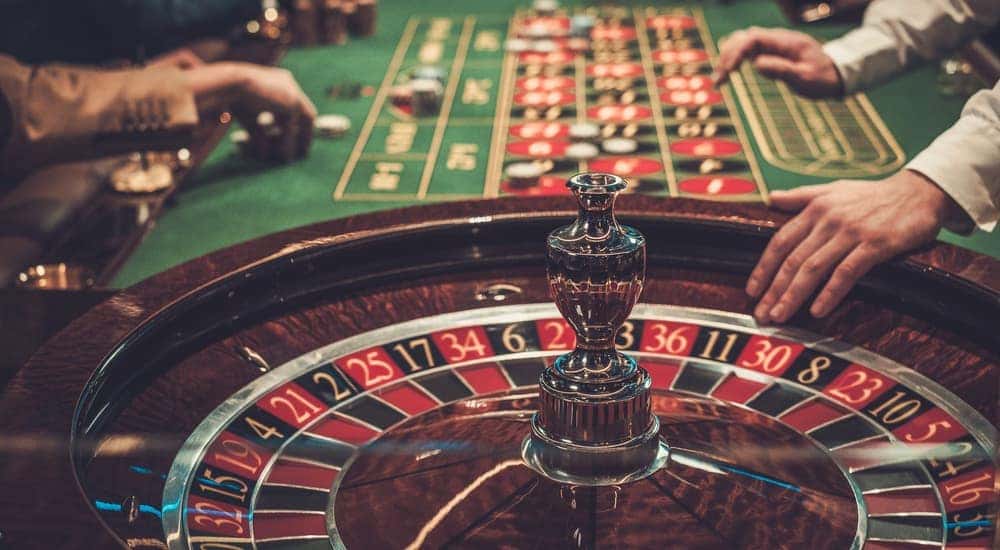 Day-to-Day Life in Mesa, AZ
Living and working in Mesa is a real treat, and whether you're new to the city or trying to get more familiar with your hometown, we're excited to help you see it all. Our sales team at Arizona Car Sales is dedicated to our customers' satisfaction, and that goes well beyond helping them find the car of their dreams. While our primary goal is to help satisfy your automotive needs, we can also provide advice as good as any local tour guide. Many of our dealers are long-time locals, or live in one of the surrounding cities, and know all there is to know about living day-to-day in Mesa. This beautiful desert town is a remarkable place to explore, from the vast nature preserves that frame our city-limits to the bumping nightlife at Casino Arizona located in Scottsdale, we certainly have it all. And with our help, at Arizona Car Sales, we can help you explore every last inch of this town.