10 Best Used Commuter Cars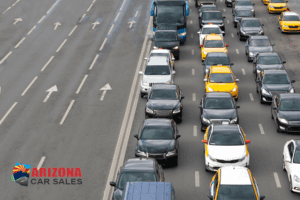 Used commuter cars offer a cheap transportation from point A to point B, and as such they are extremely popular with anyone who has a longer than normal drive to work in the morning.  Whether you appreciate the fuel efficiency offered by a smaller, more modest automobile, or whether you are trying to keep the miles off of your pride and joy, a used commuter car is often a flexible and frugal option available at a low purchase price.
Of course, not all commuter cars are small, and not all commutes are exactly the same, which means when we put this list together of the 10 best commuter cars we snuck in a few surprise choices at the end.  Let's take a quick look at what these daily drivers have to offer.
1. Mazda Mazda2
The Mazda Mazda2 offers a bit of a bonus to commuters as its lightweight chassis has been tuned to offer better than average handling compared to other models in its class.  The Mazda Mazda2 hatchback features a 1.5-liter, four-cylinder engine that produces 100 horsepower and 98 lb-ft of torque, and the best fuel mileage for the subcompact car is linked to the standard five-speed manual transmission (29-mpg city / 35-mpg highway).  You can also order the Mazda2 with a four-speed automatic.  In terms of features, don't expect much from the little hatch, but later models – 2014 and up – are generally better equipped compared to earlier, 2011-2013 editions of the car.
2. Volkswagen Jetta TDI
The Volkswagen Jetta TDI has long been an open secret amongst those who regularly put 50 to 100 miles a day on their commuter cars.  The Volkswagen Jetta TDI offers a 2.0-liter turbodiesel engine that helps this compact sedan deliver 30-mpg in stop and go driving and 42-mpg on the highway.  That impressive efficiency is paired with 140 horsepower and 236 lb-ft of torque, which helps the Jetta TDI feel relatively quick on the highway, and you can chose between either a six-speed manual or six-speed automated manual edition of the car.  From 2011-onwards the Jetta moved to a larger platform, which features more interior room but a bit less luxury compared to older models.
3. Toyota Prius
The Toyota Prius remains the undisputed king of used commuter cars if all one cares about is hyper-miling fuel efficiency.  The standard-bearer in the hybrid class, the Toyota Prius comes with a 1.8-liter four-cylinder engine that is matched with a pair of electric motors to produce 134 horsepower.  Much more impressive, however, is the compact Prius hatchback's 51-mpg around town and 48-mpg on the highway, numbers that are unmatched in its class.  Shifted via a continuously-variable automatic transmission, the current generation Prius first hit dealerships back in 2010, which means there's lots of secondhand inventory to choose from.
4. Honda Insight
The Honda Insight is a bit of a blast from the past on our list of the best used commuter cars, because we're skipping the latest edition of the subcompact hybrid in favor of the more frugal first generation model.  You'll have to go back to 2006 to snag the newest first-gen Honda Insight, but the impact on your monthly fuel bill will be worth it: the five-speed manual transmission version of the hatchback returns 48-mpg city and 58-mpg on the highway (a continuously-variable automatic is also available, but isn't as frugal).  There are a few trade-offs to consider with the Insight, including two-passenger seating and a weak 73 horsepower and 91-lb-ft of torque from a three-cylinder, 1.0-liter gas engine matched with a single electric motor, but if you don't plan on car-pooling then the Honda's affordable purchase price and low fuel consumption are a tempting combination.
5. Hyundai Accent
If you want to stay more recent when seeking a used commuter car, and if you're looking for a relatively high standard of equipment for your money, then consider the Hyundai Accent.  This subcompact hatchback, which was last redesigned in 2012, provides not just a stylish interior and attractive sheet metal, but also the availability of features such as Bluetooth connectivity, cruise control, and keyless entry, all of which are nice in a car you're driving to work every day.  Six-speed manual and automatic transmissions are on-hand with the Hyundai Accent, whose 138 horsepower, 1.6-liter mill squeezes 123 lb-ft of torque out of its four cylinders (along with 28-mpg in city driving and 37-mpg during highway cruising).
6. Smart Fortwo
The Smart Fortwo is designed for a different type of commuting than many of the other used cars on this list.  Specifically, the Smart Fortwo is intended as a city runabout, a task for which it is perfectly suited thanks to its tiny, two-seat footprint and ability to fit into even the tightest of parking spots.  Taking a look at the Smart's 1.0-liter, three-cylinder engine and its 71 horsepower and 68 lb-ft of torque, it's fairly clear that while long-distance travel is possible, it's not quite as comfortable an environment for the little coupe.  Around town you'll see 33-mpg while highway driving yields 41-mpg.  A five-speed semi-automated manual transmission is standard with the Smart.
7. Ford Fiesta
The Ford Fiesta, like the Mazda2, provides more driver feedback and better handling than one would expect for a subcompact hatchback at its price point.  It's also quite thrifty when it comes to fuel consumption, a quality that the Ford Fiesta derives from its 1.6-liter four-cylinder engine that generates 120 horsepower and 112 lb-ft of torque.  You can squeeze 29-mpg in city driving and 40-mpg on the highway from the Fiesta if you can find one with the SFE, or Super Fuel Economy package, but even without this set of features the Fiesta is still good for 39-mpg highway.  A five-speed manual transmission is standard with 2011-2013 used Fiestas, while a six-speed automated manual transmission is also out there for those who don't want to shift themselves.
8. Honda Fit
The Honda Fit is a bit more than just a commuter car – it's the commuter for those who have to bring it all with them, but who don't have a lot of room to park either at home or at work.  The subcompact Honda Fit makes use of a reality distortion field called the 'Magic Seat' that allows its second row of accommodations to be moved and folded and flattened until 57 cubic feet of cargo space have been made available.  Throw in the 117 horsepower and 106 lb-ft of torque from its 1.5-liter, four-cylinder engine and its EPA fuel mileage rating of 28-mpg city and 35-mpg highway (when outfitted with a five-speed automatic in place of the also-available five-speed manual) and you've got a recipe for hatchback success.
9. Chrysler 300
The Chrysler 300 might seem like a bit of a curveball here on our list of the best used commuter cars, but hear us out.  If you've got a lot of highway ahead of you, and you regularly find yourself behind the wheel for hours at a time, it's hard to beat a full-size sedan like the Chrysler 300 for comfort and safety.  Sure, its most fuel efficient engine is a 3.6-liter V-6 that returns 19-mpg city and 31-mpg highway (thanks to an eight-speed automatic tranny that appeared in 2013), but those numbers come hand-in-hand with 292 horsepower and 260 lb-ft of torque and a backseat you could probably sleep in comfortably.  You know, in case you get stranded somewhere on your commute.
10. Ford Escape Hybrid
The Ford Escape Hybrid is another unusual commuter car choice, or at least it seems like one until you start to look at the details.  For example, did you know that the gasoline/electric drivetrain offered by the Ford Escape Hybrid is good for 34-mpg city and 31-mpg highway, and comes matched with 66 cubic feet of total cargo space?  If your commute involves carrying product samples or heading from one worksite to another with a load of gear, it's hard to beat those numbers.  You also get 177 horsepower from the 2.5-liter four-cylinder and its electric motor (or two electric motors if all-wheel drive is selected), which is a respectable amount of power for a compact SUV.
By Benjamin Hunting for autobytel